Which Style of Front Door is Best?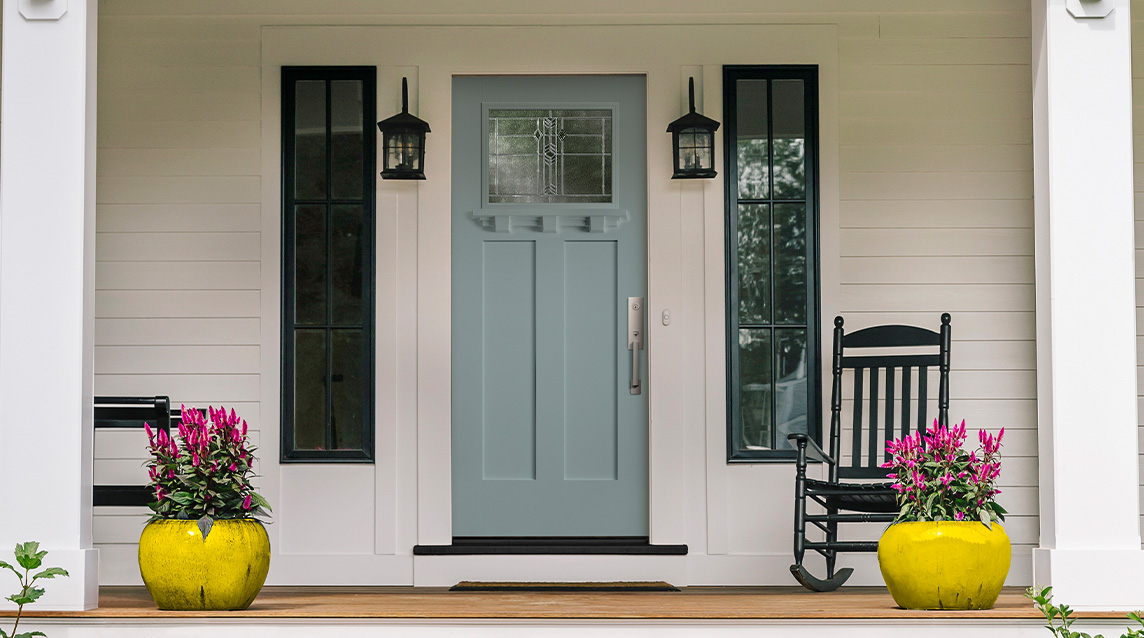 Whether you are replacing the front door of your home or choosing one for new construction, it is important to consider the style that suits your house. This will create a cohesive appearance and boost your curb appeal.
Flat, solid doors have a simple appearance and when quality designs are used they offer good home security. Horizontal panels can work well with modern houses and also suit homes with wood paneling on the facade.
Modern
Modern front doors are sleek and simple, making them a great choice for contemporary homes. Featuring large glass panels or windows, these front door designs produce an open and airy feel to the entryway while adding visual interest to the space. Frosted glass is a popular option for this style because it allows light to enter while maintaining privacy.
If you want a bold look for your modern door, consider a color that grabs attention. Eye-popping shades like vibrant red or a deep blue make a statement that elevates the aesthetic of your home's entrance. For a clean and polished appearance, choose a glossy finish over a matte one.
If you're not into a bold hue, try a more subtle front door with geometric details. Geometric front doors feature symmetrical horizontal grooves and work well with a range of styles, including those that are traditionally designed or those with more of a mid-century modern influence. Another popular choice for modern doors is a wood panel design. These can complement modern homes with wood paneling on the facade and work especially well with those that have a Craftsman design.
Traditional
Whether you live in an older home or a new build, choosing a traditional front door is an excellent way to add character and style to your house. It will work well with most types of architecture, and it can be an opportunity to add a splash of color or decorative elements.
When opting for a traditional design, look for a door that is crafted from a material that will suit your home's overall aesthetic. Traditionally, doors were made from pitch pine but now are more likely to be fashioned from larch or accoya wood that has been chemically treated for strength and stability.
If your home's interior is traditionally themed, a sidelight may help to illuminate the entrance hall and give it a welcoming feel. Depending on the type of sidelight you choose, it can be glazed to let light in or obstructed to create privacy.
You can also give your front door a makeover by painting it a bright color to match your property's exterior. Make sure to test the handedness of your existing door before purchasing a replacement, which can be done by standing in the frame and putting your hand against the hinges. If your hand is by the doorknob, it's right-handed.
Contemporary
If you're looking to give your home a modern look, try a sleek, simple front door with neutral hues and straight lines. Contemporary styles also feature a mix of materials, from wood to glass. Using glass in your front door allows natural light to enter your house while adding visual interest. Options like frosted doors or top-half panels are great for preserving privacy.
Another popular option for a contemporary front door is wrought iron accents, from the hinges to viewing windows and peephole covers. These elements make a statement in their own right, but they should be paired with a style that complements your home's existing architecture.
For a more unique design, consider a solid-paneled door with horizontal wood paneling. A door like this one can be a bold statement in neutral tones or a bright, eye-catching color like pink. For a more modern take, use a pivot hinge instead of traditional ones to keep the design clean and minimal. You can also experiment with glazed side panels for additional light without compromising on privacy. It's important to note that when choosing a front door, you'll need to know the handing. If the doorknob is on your left, it's a right-handed door; if it's on your right, it's a left-handed door.
Victorian
If your home evokes the Victorian period, choose a door with raised panels and patterns to match. These doors typically don't have glass, but you can also find some styles that feature sidelights to let in more natural light into the entrance hall.
Ornate doors are a style-showstopper and pair well with both Colonial and farmhouse aesthetics. They often have decorative glass in geometric, curved and floral designs that add interest to the front of your home. You can even find frosted glass options to preserve privacy, such as on this traditional front door.
Front doors became more varied with the rise of the Arts and Crafts movement in the early 19th century. The Arts and Crafts style harked back to medieval design with plank-constructed doors, sometimes featuring head hinges and latches rather than doorknobs or handles.
If you're looking for a door that combines the look of classic Victorian style with state-of-the-art security, consider an Endurance composite door. They offer all the aesthetics of a Victorian-era front door with the strength and durability of modern steel to withstand years of use. They're also engineered to prevent intruders from gaining access through the door by using a cylinder lock that provides advanced anti-pick and anti-drill protection.
Rustic
Rustic front doors are a popular style choice for homeowners who want their entryway to have a natural feel. These doors are typically made from solid wood like mahogany, hickory, knotty alder or douglas fir. They can be stained or painted to match a specific look. Rustic styles can also be combined with transoms and sidelites to create a dramatic entrance.
The thick wood in these types of front doors helps shield the inside of your home from unwanted noise. They can also help keep warm air in during the winter and cool air in during the summer. This type of door can be a great option for a busy household with kids and pets because it allows you to let in guests without needing to open the entire front door.
A rustic front door can be a beautiful addition to a farmhouse, craftsman or bungalow-style home. Fortunately, it's now possible to achieve a rustic look with modern materials like fiberglass, which is energy efficient and durable. You can also choose a steel door, which is the strongest material available for front doors and resists dents and warping more than wood. It can help prevent heat loss, withstand the elements and is available with several factory-finished stain options and paint colors to suit your taste.
Country
For a country front door that makes your entrance feel like an old castle, look for solid wood doors with heavy moldings and a wide footprint. These doors are often crafted from accoya, a chemically-modified timber that outperforms hardwood in terms of strength and durability. They're also a great choice for energy-efficiency because they help control heat and cold better than fiberglass doors.
To choose the right color for your country door, consider the colors of your home and the landscape surrounding it. Lighter homes benefit from pastel shades, while red-brick or darker houses are better suited for rich tones. If you want to add a hint of drama, try a deep blue or teal hue.
When you're ready to paint your country door, it's important to know the "handing" so that you can install a lock properly. To determine whether your door is right- or left-handed, stand in the frame and place your hand by the doorknob. If it's by your right, the door is right-handed; if it's by your left, the door is left-handed. Then, install the hardware accordingly and apply a coat of robin's egg blue as featured on Home Stories A to Z.
Craftsman
Craftsman-style front doors are a classic choice for bungalow, cottage and prairie style homes. They are known for their understated beauty and feature large porches, earthy color palettes and details that honor craftsmen's workmanship. Craftsman doors are crafted from natural materials like wood or material that mimics the look of wood, such as fiberglass. They have straight lines and one or more rectangular panels recessed within the door's surface or separated by wooden muntins. A common characteristic of this door style is a shelf near the top of the door that is known as a dentil shelf.
When you choose a craftsman front door for your home, consider choosing a genuine wood option to best showcase the door's detail and beauty. You can also upgrade to a glass-paneled door option. These doors offer plenty of natural light and are available in decorative or obscure glass options for privacy and energy efficiency.
New entry doors can make a dramatic difference in your home's curb appeal and create a welcoming first impression for visitors. Schedule a free consultation from Cambridge doors to find the right door for your home and get started on creating an updated entranceway that perfectly complements your style and meets your functional goals.
Whether you are replacing the front door of your home or choosing one for new construction, it is important to consider the style that suits your house. This will create a cohesive appearance and boost your curb appeal. Flat, solid doors have a simple appearance and when quality designs are used they offer good home…
Recent Comments
No comments to show.